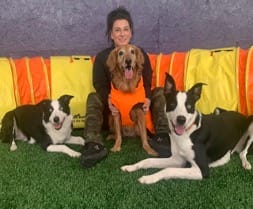 A little about me.  My name is Angie Pawinski and I started agility in 2000 with my Golden Retriever, Haley.  I had Haley in a puppy class at Smack Dab in 1998 and she was so smart, we decided agility was for her. She was a natural.  I continued with two more Goldens, Sirius and 11.5 year old Firefly who is retired from agility.  In 2015, I couldn't pass up on a handsome blue eyed Border Collie.  His name is Falkor, he is 7 years old. Next up was a puppy  from the same breeder as Falkor, and in 2021, I welcomed Bravestone into the family. He is now 18 months old.
I competed in AKC agility from 2000-2015. NADAC 2000-2004, CPE 2001-2002 where Haley placed 2nd at CPE Nationals.
Currently I compete in some USDAA and mostly concentrate on UKI with my two Border Collies.
Firefly has been on many podiums. Placing in multiple regional qualifiers and placed 5th in the team event at USDAA nationals in 2015 and 5th in Biathlon Overall at the same national event.
Falkor has had the short end of the stick during his career. A shoulder injury took him out for over a year and then Covid side-tracked him again.  He did manage to take first place at the 2019 UKI Midwest Cup and is still actively competing.
Bravestone is just starting to compete and he's got so much
You Tube channel: http://www.youtube.com/user/haley0619989. You can also just search angie pawinski. I have a recent weave video up of all three dogs.