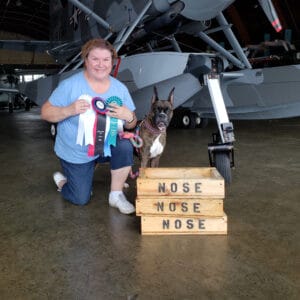 Erin Rezmer, CNWI
Nosework Instructor
Erin Rezmer became involved with nose work after she started taking classes with her Boxer, Kahlua, in 2010 as a way to build Kahlua's confidence with her utility articles for AKC obedience competition. She began teaching nose work classes at For Your K9 in 2014. 
Erin teaches classes that range from beginners being introduced to nose work to those competing at the NW3/Elite level. Erin has taught nose work seminars/workshops. She is a Certified Nose Work Instructor (CNWI) through the National Association of Canine Scent Work (NACSW) and an American Kennel Club (AKC) Scent Work judge.
Along with nose work, Erin trains and competes with her Boxers in agility, rally, and obedience and has earned many titles with her Boxers. She is a member of three Boxer clubs and on the board of two of them, and a member/instructor of a local all-breed volunteer dog training club. She has also taught puppy obedience, rally, and agility classes.
She believes it is a duty of each handler to give back to the sport they enjoy by mentoring new handlers to train and show their dogs and by volunteering their time. She has volunteered at numerous agility, obedience, rally, and nose work trials or events.
No matter what the role, she has always learned from the experience. She works to grow her skills as a handler and instructor by taking classes and attending seminars with her dogs. Her training philosophy is to keep it positive for the dog and fun for the handler. Of course, it has to be fun for the instructor too!