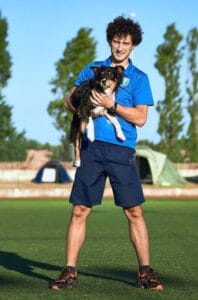 I started with agility in 2012, with my dog Guinness: the first time I saw an agility course it was love at first sight.
Dogs without out of their leash, running into this course, having fun with their owners.. it was incredible. I told myself: I want to do this with my dog. I want my dog to have fun. Or at least, why do not try?
I would never say that this discipline brought me to four IMCA World Championships!
Guinness and I did our first competition in 2014 and in 2015 we were selected for the Italian Agility Team.
We participated:
– in 2015 in Traun (Austria), like a reserve for the Individual Team;
– in 2016 in Ostrava (Czech Republic) and we won the gold medal in Agility Individual;
– in 2017 in Tattendorf (Austria), where we won the gold medal in Jumping individual;
– in 2018 in Huntingdon (England), where we got a gold medal in Jumping individual and the fourth place in combined.
In the meanwhile, I got a second dog, Renji, a marvelous and wonderful border collie male; after a lot of work, challenges, energy, and time spent in training together, Renji and I started doing competitions as well, but just after few months I had to stop him due to a congenital disease that still affects him. In 2020, I also retired Guinness, she definitely deserved some relaxing time!
This discipline gave me a lot: it brought me to be passionate about dog psychology, I experienced that the basis of a great binomial is a great relationship with your dog.
That is the reason why I have always been interested in dogs' psychology and I have studied a lot to learn always something more about dogs' ways of thinking. Moreover, in parallel of teaching agility in a dog school in Italy, I was used to managing a basic education course in the same school and helping owners in fixing their dogs' behavioral problems.
I really think that this discipline is for everybody and for every dog: no matter what is your goal, you can do it just for fun or to compete.
Today, after more than years 10 years in the canine world, I clearly understand that the big goal I achieved is a great relationship with my dogs. There are no medals that value this.
 My motto is "pull out the best from every team", because the purpose of every training I do is to go out from the agility field with a smile, sure that you have done your best with and for your dog.