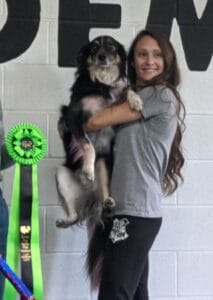 Laura Gruszka
My name is Laura Gruszka, and I have been obsessed with the sport of agility since I was 8 years old. I would be glued to the TV whenever there was an agility competition, and would cheer when my favorite teams did well. At the age of 10, my parents saw my passion, and I got my first border collie, Nikko. We did agility in the backyard using homemade equipment, and we had a blast! I started formal agility training in 2015 with my border collie-beagle mix, Peter! I did my first agility trial 2 years later, and I've been obsessed with competing ever since. Peter and I have multiple championship titles in CPE, and smaller titles in AKC. In 2021, I adopted my second agility partner, Tano, a border collie, and we have started competing in AKC, UKI, and CPE. I have two other wonderful dogs, Zoey, a golden retriever, and Scotty, a border collie.
When I'm not training or competing in agility, I'm mostly doing other dogs sports (dock diving, swimming, Fast CAT, etc.) , or spending time at home with my husband and 4 dogs.
As an agility instructor, my goal is to help each team achieve their personal goals, and have fun in the process! I love watching teams become better teams, and often you will hear me loud and clear how excited I am for them. I am my students biggest cheerleader, and nothing makes me happier than when a team tries something new and succeeds.