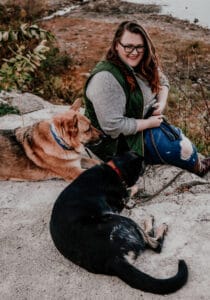 Liz Vanderhoef, FDM
Liz Vanderhoef joins FYK9 again with a focus in behavior training, specifically reactivity, anxious, and excitable dogs. Liz began teaching barn hunt part-time at For Your K9 in 2021 and fell in love with being a trainer. She has been training full-time since January of 2022. She is a Certified Family Dog Mediator, has completed her Aggression In Dogs Master Course from Michael Shikashio and is almost completed with her Separation Anxiety Pro Trainer Certification. Liz is also a CGC Evaluator and she was voted one of Texas' Top Trainers through Sniffspot in 2022.
When Liz isn't helping clients meet their goals with their dogs, she is enjoying time with her two dogs, catching a baseball game and you can usually catch her with a Starbucks in her hand! She has two dogs, Ruger who is 9 y/o German Shepherd and Rumor, a 1 y/o German Shepherd. They enjoy lots of time hiking, swimming, playing fetch and of course dog sports! Ruger is retired from all sports other than Nose Work, which he has a blast doing! Rumor will be participating in Barn Hunt, Nose Work, Rally, Dock Diving, Agility, and possibly more!
Liz teaches some foundation classes, foundation classes, advanced classes, some barn hunt and taking private clients for reactivity, resource guarding, and separation anxiety.
In addition to training at FYK9, Liz also helps out with all things marketing here!