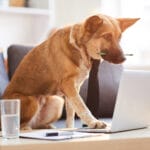 For Your K9 is devoted to building relationships between dogs and their people. As trainers, we believe are the interpreters, helping humans understand their dogs. We are now offering online classes to support you as you develop a relationship with your dog. Armed with this information you can work with your dog at your own pace. 
In these sessions you will learn:
Why problem behaviors happen
Make adjustments for the individual dog
How to develop a behavior modification plan for your dog
How track progress
We will have various topics and assist you in having a harmonious and understanding relationship with your dog.
Our classes are conducted via ZOOM.
Upcoming topics – Instructor: Lisa Bataska:
Calling All Puppies: Socialization Quality vs Quantity
Thursday, 1/27/2022 @ 6:15 PM
Choosing the right type and amount of socialization for your new puppy or new dog is key to a well-socialized dog. Socialization includes other dogs, people and the environment. This online workshop will address all of these and assist you in designing a socialization program to build confidence and trust.
Sign Up!
Separation Anxiety 101 – 2 parts
Thursday, 1/27/2022 @ 7:30 PM
This is a 2-part workshop 1/27 & 2/3 are the meetings. In this online workshop, we will discuss what separation anxiety is and how to manage and/or prevent it as the pandemic unfolds.
What are the signs of separation anxiety
What are the triggers
How to create routines and boundaries to help with separation anxiety
Plus Much more.
3 Most Important Things to Teach Your New Puppy
2/3/2022 @ 6:15 PM
Top 3 things to set up your pup for optimal training and building life skills.
1. Impulse control
2. Recall
3. Attention & Focus
Your Shy/Fearful Dog
Thursday, 2/17/2022 @ 7:00 PM
In this workshop, we will discuss.
Why some dogs are worried/shy
How to train a worried or shy dog
Identify triggers
Do's and don'ts on socialization
Training progression for your worried dog
Contact us at with any questions.
Happy Training!